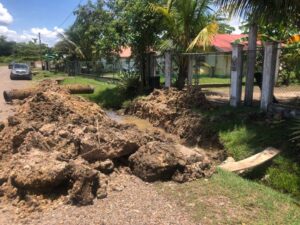 "But small is the gate and narrow the road that leads to life, and only a few find it." Matthew 7:14 NIV
We have some minor construction going on in front of our house. We're replacing our culvert. This required our driveway to be removed, and a ditch is now in its place.  Can you see the board that extends across the ditch? That's the narrow road that leads to my house! The first morning I had to cross the ditch before the board was in place. Eager to get to the gym, I ended up with a muddy purse, shoes, and car keys. I'm grateful we aren't cut off completely from our home, but navigating the crossing is tricky.  Narrow is the road we are traveling each day.  O Lord, teach us to follow the rules of the road!
Such is our spiritual life. When the way is broad and sturdy, we find it easy to move along. But what do we do when the path gets narrow? How do we handle the moments when the board beneath our feet bends under the weight of our steps? For some of us, situations like these are temporary.  And for others, it may feel like we can't ever get off the unstable road our lives are on.
Rules of the Road
The small gate and the narrow road symbolize our walk with Christ. The narrow road requires us to be intentional.  We fix our eyes on where we're going. If we go too far to the left or the right, we lose our footing. Losing our footing could land us in the muddy water, injured, or embarrassed.  We need balance to get to the other side. There is a huge ditch dividing and distracting many believers right now.  How do we navigate it all to make it safely home?
Pray And
There's a lesson that I'm clinging to from Nehemiah 4:9, "But we prayed to our God and posted a guard day and night to meet this threat." We need to pray and protect each other.  We have work to do. And prayer comes first, then a guard.  Each of us must pray and listen to what God would have us do. We all have a narrow path to walk. Our lives need to show others the way to Christ. We desperately need to pray and navigate our way through to the other side.  There is construction on the roads around us. Lives are being torn down and need to be rebuilt. Much like Nehemiah, we cannot get distracted from the work God has called us to do.  We must intentionally follow the rules of the road.
Let's Reflect
What does the narrow road look like for you right now? What do you need to pray and do?
Let's Pray
Father, thank You for the lessons in Your word.  Thank You for reminding us that our path is narrow. Help us to focus on rebuilding healthy relationships with one another. Show us how to stay on task.  There are still people out there who need Jesus. Help us to lead them to You.  Teach us to pray and protect one another. Help us to navigate the narrow way. In Jesus' mighty name, we pray. Amen.