"The bar is loaded for Alida Sharp, 260lbs." I make one last adjustment to my belt as I advance toward the bar.  I'm staring down at a weight I've never lifted before. But, I trust my training.  I have confidence it will move, and it does.  Is there a weight that you're facing right now? One that you're called to move but have never attempted? Do you trust your training?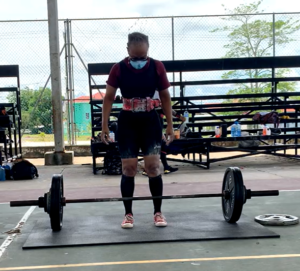 One aspect of my training includes how to brace my core for the lift.  In the photo, you can see me wearing a weightlifting belt. Your core is your natural weightlifting belt. It is the center of power for your body.  Core strength is crucial to every movement you make and is foundational for building strength everywhere else in the body.
A strong core also enhances balance and stability, it helps prevent falls and makes you resistant to injuries. 
If you read Ephesians 6:13-18, you'll find a list of spiritual armor. 
"Therefore put on the full armor of God, so that when the day of evil comes, you may be able to stand your ground, and after you have done everything, to stand. Stand firm then, with the belt of truth buckled around your waist, with the breastplate of righteousness in place, and with your feet fitted with the readiness that comes from the gospel of peace. In addition to all this, take up the shield of faith, with which you can extinguish all the flaming arrows of the evil one. Take the helmet of salvation and the sword of the Spirit, which is the word of God. And pray in the Spirit on all occasions with all kinds of prayers and requests. With this in mind, be alert and always keep on praying for all the Lord's people."
Belt of Truth
Notice that the first piece of spiritual armor is a belt that protects our core. Our spiritual core is strengthened by the Truth. Just like having a strong physical core is important for our body, knowing the Truth, God's Word, is important to every other function we undertake as a child of God.
A strong core helps with balance, stability, resistance to injury, stamina, and helps you to stand. How strong is your core? How well do you know the Truth? If our spiritual core is weak it causes us to be out of balance, making us vulnerable to distortions of His word.
What happens if our spiritual core is weak?
If our spiritual core is weak it will cause instability in our relationship with God and we'll have problems resisting the enemy. Our spiritual balance, stability, resistance, and stamina are benefits of a strong spiritual core. 
"Physical training is good, but training for godliness is much better, 

promising benefits in this life and in the life to come." ‭‭1 Timothy‬ ‭4:8‬ ‭NLT‬‬
Three Training Exercises for Spiritual Fitness
Know God's Word

Take thoughts captive 

Spend time with believers
Knowing the Truth comes from studying the Bible for ourselves. When we hear someone quote scripture, we must look it up to see the context of the passage and ask God for help to understand what it means.
Clear thoughts come from time in prayer, meditation, and worship. We must talk to God and listen to Him. 
Remember, iron sharpens iron! We are made stronger by being around strong believers.
Spiritual Training 
2 Timothy 3:16-17 reminds us that, "All Scripture is God-breathed and is useful for teaching, rebuking, correcting and training in righteousness,  so that the servant of God may be thoroughly equipped for every good work." 
God uses His word to train us. He is the ultimate trainer. And we can trust in our training as we face each weight God brings our way.
Let's Reflect:  Do you trust your training? If not, how can you strengthen your training?
Let's Pray: Father, You have provided all that we need to grow stronger in You. Help us Lord to trust in our training. Help us to lean on Your word and learn to lift the weights You've called us to face.