There is a skill that most of us learn within the first 18 months of our lives. Walking. It's a fairly simple action. We don't really think about it, we just do it. We walk indoors, outdoors, on treadmills, in our living rooms. It's one of the most effective and convenient modes of exercise.
The more we walk, the better we feel. It improves our mood, helps manage weight, aids digestion, and helps slow mental decline as we age.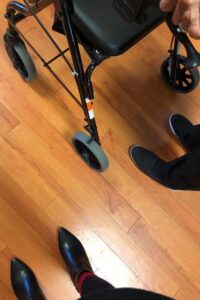 My 83-year-old mother recently had knee replacement surgery. Within a few hours of her procedure, a physical therapist had her up walking again. I think our bodies are absolutely amazing! Two weeks later she's moving more freely, growing stronger each day.
 As we walk together, my pace adapts to hers giving me time to ponder.  I think about different ways of walking.  I've been working through several verses in preparation for another project I'm working on and I remember a list that I made of 21 ways to walk:
1. Walk Worthy: So that you may walk worthy of the Lord, fully pleasing to him: bearing fruit in every good work and growing in the knowledge of God. ‭‭Colossians‬ ‭1:10 ‭
 2. Walk Humbly: Mankind, he has told each of you what is good and what it is the Lord requires of you: to act justly, to love faithfulness, and to walk humbly with your God. Micah 6:8
3. Walk Purposefully: Teach them to your children, talking about them when you sit in your house and when you walk along the road, when you lie down and when you get up. ‭‭Deuteronomy‬ ‭11:19‬ ‭
4. Walk Carefully:  For if you carefully observe every one of these commands I am giving you to follow — to love the Lord your God, walk in all his ways, and remain faithful to him. ‭‭Deuteronomy‬ ‭11:22‬ ‭
5. Walk Freely: I will walk freely in an open place because I study your precepts. Psalms 119:45
6. Walk Securely: When you walk, your steps will not be hindered; when you run, you will not stumble. Proverbs 4:12
7. Walk Obediently:  "Get up," Jesus told him, "pick up your mat and walk." John 5:8
8. Walk Wisely: Pay careful attention, then, to how you walk — not as unwise people but as wise. Ephesians 5:15
9. Walk Reverently: And now, Israel, what does the Lord your God ask of you except to fear the Lord your God by walking in all his ways, to love him, and to worship the Lord your God with all your heart and all your soul? Deuteronomy 10:12
10. Walk Wholeheartedly: Be wholeheartedly devoted to the Lord our God to walk in his statutes and to keep his commands, as it is today." 1 Kings 8:61
11. Walk Corporately: We used to have close fellowship; we walked with the crowd into the house of God. Psalm 55:14
12. Walk Energetically: But those who trust in the Lord will renew their strength; they will soar on wings like eagles; they will run and not become weary, they will walk and not faint. Isaiah 40:31 
13. Walk Agreeably: Can two walk together without agreeing to meet? Amos 3:3
14. Walk Uprightly: Don't My words bring good to the one who walks uprightly? Micah 2:7
15. Walk Peaceably: True instruction was in his mouth, and nothing wrong was found on his lips. He walked with me in peace and integrity and turned many from iniquity. Malachi 2:6
16. Walk Gratefully: So he jumped up and started to walk, and he entered the temple with them—walking, leaping, and praising God. Acts 3:8 
17. Walk Decently: Let us walk with decency, as in the daytime. Romans 13:13 
18. Walk Lovingly: And walk in love, as Christ also loved us and gave himself for us, a sacrificial and fragrant offering to God. Ephesians 5:2 
19. Walk Identically: The one who says he remains in him should walk just as he walked. 1 John 2:6 
20. Walk Attentively: Pay careful attention, then, to how you walk. Ephesians 5:15 
21. Walk Victoriously: I say, then, walk by the Spirit and you will certainly not carry out the desire of the flesh.   Galatians 5:16 
Several months ago I began taking a deeper look at each one and making it my focus as I walk. Just like it took us a while to learn to walk as toddlers, it takes time to learn how to walk as believers. My prayer is that Jesus walks with each one of us as we learn to walk worthy of Him.
Let's Reflect: Look over each verse carefully. Which one stands out to you? Chose one to begin meditating on. Write it out in your journal and begin meditating on it. You could choose one for each day or use one verse for a week. Ask God to show you how to incorporate the verses into your spiritual walk with Him.
Let's Pray: Precious Lord, we are so grateful for the way in which you designed our bodies. We are grateful to be made in Your image. Just as we imitated our parents when we learned to walk physically, show us how to walk like Christ spiritually. We look to You to strengthen us as we grow closer and closer to You. In Jesus' mighty name. Amen.
Click here to download a list of the scriptures: 21 Ways to Walk