Have you ever tried plantains? The ripe ones are sweet and when baked or fried they make a tasty treat. A common meal in Belize would feature rice, beans, and stewed chicken with a few slices of fried plantains on the side. The other day I saw a recipe for Plantain Bread. The Instagram influencer used plantains in place of bananas. Our choices matter.
As I mashed the plantains, it came to mind that I've become acquainted with different types of food throughout my 59 years of life. From home-cooked African American soul food to a Mexican-influenced menu. And from Russian to Japanese to Indian to Belizean cuisine and beyond. I've enjoyed new tastes, scents, and textures along the way to our home here in Belize.
Trying Something New
Just as I've appreciated exploring culinary delights, I have also found pleasure in various translations of heavenly food—the Bible. For over a decade I chose a different Bible version to study each year. With the rise of the YouVersion Bible app, it's possible to compare translations inside the app.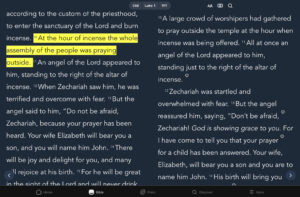 Sometimes a word or phrase in one translation jumps out at me, giving me a fresh encounter with a familiar passage. Those moments are priceless treasures. However, I recognize that discovering a new twist on a favorite recipe might be a deal breaker for a traditionalist. Just as some congregations who value the lyrical quality of the King James version, may struggle to find peace with the New King James translation.
Time In The Word Matters
Personally, I think time in the Word of God, no matter which version is read, is time well spent. The Holy Spirit is able to speak to our heart of hearts and feed our hungry souls. Our devotional time in the Word matters. And our study time of the Word is vital. I might read The Passion Translation for my devotional time while utilizing the Christian Standard Bible version for studying.
Our Choices Matter
Our choice to read one version over another is a personal preference. What is your go-to version of the Bible? Read it, study with it, take delight in it! And if you enjoy tasting something new, then by all means, read it, study with it, and take delight in it! Our choice to devote time in the Word is truly what matters most.