"Start." "Press." "Rack." These competition commands are for the bench press. 34 athletes between the ages of 12 and 74 competed at our Belize National Championship over the weekend. Each athlete contended according to International Powerlifting Federation standards. No exceptions. The 74-year-old had to comply with the same rules as the 12-year-old. I had the privilege of serving as Head Referee for the first flight of male competitors. Following the guidelines in one book can change our lives.
The Rules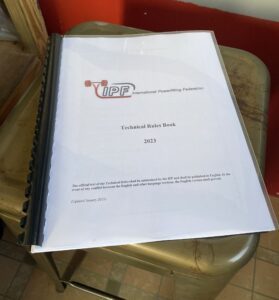 Not only were the athletes bound to the rule book, but so were all of us who refereed the event. If a sports organization expects each athlete to familiarize themselves with the rules, what should Christ expect from us as His disciples?
Paul says it like this, "Also, if anyone competes as an athlete, he is not crowned unless he competes according to the rules."
‭‭2 Timothy‬ ‭2‬:‭5‬ ‭CSB‬‬
Each lifter who earned a medal had to follow the rules. And each rule governing powerlifting is found in one book.
As I think back on the day, we all fell into various categories;
Some were familiar with the rules because they read them for themselves.
Some heard the rules from others.
Some had a clear understanding of the rules.
Some were learning them during the competition.
And some had sections memorized and knew how to apply them.
Standards
Isn't this like our Christian life? We are all held to the same standards, but we all fall into various categories. There is a significant difference between how 12-year-olds process scripture and how theologians analyze the exact passage. But if the scholar only reads and attends lectures without applying God's divine Word to his life, what good does that do?
We must "Be doers of the word and not hearers only, deceiving yourselves." ‭‭James‬ ‭1‬:‭22‬ ‭CSB‬‬
Out of the 34 competitors, there was one who failed all three attempts on the bench press. Twice, he didn't wait for the commands. He did the lifts his own way. But once, he simply took so long getting ready, he ran out of time. Each lifter has sixty seconds from the time their name is called to be ready for the start command. We have a limited amount of time on this earth. Will we be ready before our time runs out? Have we read and applied His word to our lives? Remember there is only One book with eternal significance. Only one book can change our lives for eternity.