Spanish Lookout is a Mennonite community in Belize that resembles a typical small midwestern town in America. I'd stopped at five different locations, unsure what I was looking for, a dress for church, new shoes, or maybe a book? No, a word from God. I pray for direction, and as I turn the corner, I see a shopping center I've never seen before. With the smallest sign among all the stores, an unassuming tea shop draws my attention.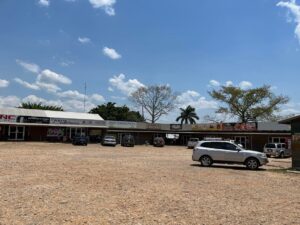 "Are you strong enough to open this?" The young lady behind the counter had just made my protein shake but couldn't open the blender. She took another look at my arms and said, "of course you are!" I smiled and opened it for her in one motion. This simple interaction provided me with a moment to treasure, as I realized that her question about my strength was the word I was searching for.
Do you ever question if you're strong enough? In those moments, it's easy to forget where our strength comes from.
"He gives power to the weak and strength to the powerless." ‭‭Isaiah‬ ‭40:29‬ ‭NLT‬‬
Of Course, You Are
In our powerlessness, He makes us strong. In our weakness, we can rely on His power. There is no need to depend on our strength when we have access to His. Are you strong enough to finish that workout? Do you have what it takes to open the door of opportunity in front of you? Can you handle that new job? As I sit here in Spanish Lookout, Belize, in a tiny little shop inside a strip mall where an open field used to be, I thank God for this pivotal moment. Because as she answered her own question, it revealed a soothing word directly from the Holy Spirit. Of course, you are strong enough in His strength. Of course, we can do whatever He calls us to do in His strength. And if you ever begin to doubt it, may you hear the voice of the Holy Spirit affirm to you, "Of course you are!"
Let's Reflect: Think about when your strength felt depleted. What did you do in that instance? Ask God to remind you where Your strength is found. Look into the mirror and tell yourself, "I am strong in His strength!"
Let's Pray: Heavenly Father, we are grateful that You make us strong. Your power is made perfect in our weaknesses. May we be clothed in Your strength and walk boldly into each day covered by Your power. In Jesus' mighty name. Amen.