"You're bending forward too far, and that makes you think you're going deep. But, you're not." Kaylon's words at the gym often hit me as life lessons. But today was different. Today, I distinctly feel the need to pay careful attention to this critique.  Because I know the Holy Spirit has something to teach me from this experience.  Has that ever happened to you?
In Deuteronomy 32:47 Moses says, "They are not just idle words for you–they are your life. By them you will live long in the land you are crossing the Jordan to possess."
I honestly thought I was going deep. And yet, there are two witnesses and a video that prove that I'm not. It was in my head.  Ouch.  I take a screenshot from the training video and see it clearly, my hips are still too high.
Going Deeper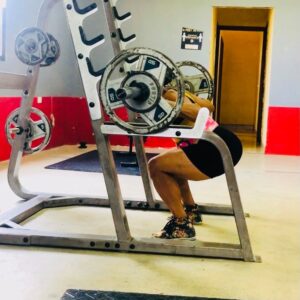 I have to go deeper.  Much deeper. We lower the weight on the bar to work on my form. He carefully explains where the bar should sit, how to hold my chest up and to sink deep.  "These are not just idle words…they are your life!" comes to mind as I take in this lesson.
Where else do I need to go deep? My quiet time comes to mind. I read a passage, write out a prayer, and give time to God each day.  But, am I reverent? Is my focus on Him or the notification that just popped up on my phone? If God were to take a screenshot of my quiet time, I wonder what I would see?
I need to drop the weight and fix my form. God's word is too precious to glance at and move on to the next item on my list. He deserves reverence, devotion, and my undivided attention. I need to drop the legalism, let go of the "shoulds", and cultivate intimacy with Him.
Going Deep
How can we go deeper?  Today is one of those times when I have to preach to myself. Do you ever do that? Here's the message I feel God has for me:
Going deep requires reverence for His word.  The holy scriptures are not just idle words. They are life-giving, soul-altering, thought-renewing words. And we need to slow down, focus, and take them seriously.
Reverence is a learned behavior. Knowing His commands, truths, and promises leads to a better understanding of who He is. And knowing WHO we worship deepens our reverence for Him.
Behavioral change takes practice.  As we seek to honor Him with our lives, we form a practice of spiritual discipline. This type of discipline transforms hearts, changes our behavior, sending us higher up and deeper into His presence.
It's time to go deeper. It's time to choose reverence, intimacy, and devotion to Him and His word!
Let's Reflect: What do you need to change in your daily time with Him to go deeper? It could be as simple as writing out a scripture passage and meditating on it throughout the week. Take some time to journal and pray about how to develop reverence for Him.
Let's Pray: Most Gracious Lord, thank You for Your precious word. You have provided a way for us to go deep into your presence. Your words are living, active, and cut to the heart. Teach us how to honor You. Teach us how to revere You. You alone are worthy. You alone are Holy. May we listen to Your voice, change our behavior, and be transformed by Your word. In Jesus' name. Amen.