Have you ever had a word get stuck in your head?  Back in September, I saw a sign that said, "It's time to OVERSEED."  Overseed? I searched Google for understanding. Apparently, this term is related to lawn care.  My research uncovered several reasons to overseed:
it repairs bare spots in your lawn.
it thickens the turf, which discourages weed growth.
it improves the overall strength of your lawn.
There are thin and bare spots in our lives. There are areas where we need to be strengthened and not allow weeds to take root.  But we cannot overseed on our own. We need help.
This is my One Word for 2021.  After all that 2020 had to offer it's time to overseed. And I've given this process to God. He can see the barren, bare, and dry areas. He knows exactly what type of seed, when to plant, and where it should go. I will trust Him.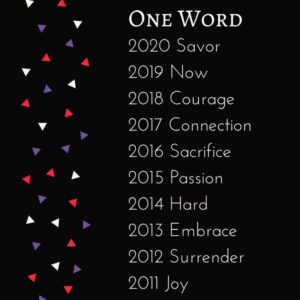 Do you have a word for the year?  For eleven years I've allowed one word to be my guide. Each year the words I hear from God have been exactly what I needed even though I didn't know that I needed them.
I'm looking forward to God revealing how the word 'overseed' will manifest in my life this year.  I do not doubt that my faith, fitness, food, and focus will be impacted. If using one word is part of your practice I'd love to hear from you. We can pray for and support one another on this journey as we move into 2021 and continue to pray, sweat, eat, and repeat.
Let's Reflect:  Ask God for a word to serve as your guide for the year. Listen carefully to His voice. Take some time to journal and ponder over what you hear Him saying to you.
Let's Pray:  Heavenly Father,  we look to You to guide the way into this new year. You alone know what it holds for each one of us. Give us a word to light up the path ahead. We trust You. We lean on You. You are our strength, hope, and comfort. We cherish Your presence in our lives. In Jesus' name. Amen.
Check out my Favorite things on Amazon: Click Here