Thirty minutes. That's how long I had to lie motionless inside the MRI machine. Excruciating pain radiated from my shoulder, down my bicep, and into my hand. All I could do was breathe and pray. One deep cleansing breath caused the technician to pull me out for a few moments and admonish me to be still. These words from Psalm 46:10 comforted me throughout my ordeal. Stillness ushers us into the knowledge of Him. A knowledge gleaned from our time in His divine presence.
What do we need to learn about God? I'm learning to wait on Him. I'm learning the value of stillness. My full diagnosis is required before a treatment plan can be established. As I wait, I'm reading and re-reading Psalm 46.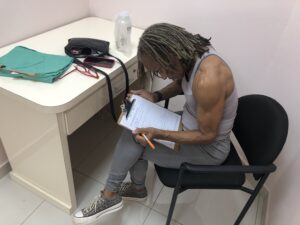 "God is our refuge and strength, a helper who is always found in times of trouble." ‭‭Psalms‬ ‭46‬:‭1‬ ‭CSB‬‬
We need to know that He is our refuge. Our safe space to hide. We must know that He alone is our strength. Our Helper when we're in trouble.
"The Lord of Armies is with us; the God of Jacob is our stronghold. Selah" Psalms‬ ‭46‬:‭7‬ ‭CSB‬‬
We need to know that He is on our side. Know that the God of Jacob is our stronghold. The LORD knows us. Let us work towards the full knowledge of Who He is.
"He makes wars cease throughout the earth. He shatters bows and cuts spears to pieces; he sets wagons ablaze." ‭‭Psalms‬ ‭46‬:‭9‬ ‭CSB‬‬
Be Still 
Dear One, may we know the works of His hands and Who He is. Our Refuge, our Strength, our Helper is the powerful force that makes wars cease. He is the power that shatters, cuts, and burns the weapons formed against us.
Bow low and give Him glory. Rise and give Him praise. Be still and know the LORD of Armies is on our side!