The teacup quickly warns my hands that I can't linger too long in this position. I have a full day ahead, and this time in the Word is too precious to waste. This is my only sweet hour of prayer. Quickly I finish the tea slurping so loud you'd be appalled if you heard that noise. Then setting down the cup, I turn my attention to this week's passage from my study of Luke. 
"At the hour of incense the whole assembly of the people were praying outside."  Luke‬ ‭1‬:‭10‬ ‭CSB‬‬
I read the passage again but my thoughts go back to my tea. My low-rimmed pink teacup is cute, just the right size for my hands, but it demands frequent refills. And come to think of it, so do I.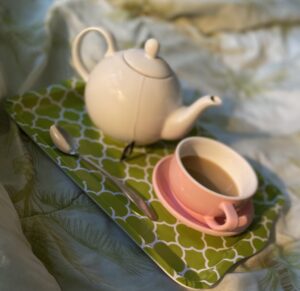 Does the size of my soul dictate how much of His Word I can process? Turning back to the verse with intention, it lovingly comes at me, 
"At the hour of incense the whole assembly of the people was praying outside."
Sweet hour of prayer
"Sweet hour of prayer. Sweet hour of prayer that calls me from a world of care. And bids me at my Father's throne, make all my wants and wishes known. In seasons of distress and grief, my soul has often found relief, and oft escaped the tempter's snare by thy return, sweet hour of prayer." 
This old hymn inundates my mind as I contemplate this passage. Tears form in the corners of my eyes, symbolizing memories of church mothers no longer with us—women who served as examples of godliness, grace, and wisdom in my childhood.
Lesson Learned
My Big Mama (my mother's mother) was among these older saints. I remember when their heads tilted back, throats opened wide, and they sang with a passion that has taken me 50 years to comprehend. These ladies cherished intimacy with God found on the floors of their prayer closets.
 Our prayers rising as incense before God's throne is time well spent.
What does the hour of incense represent here in this passage? A length of time? An hour of the day marked on a clock? An assembly of people gathered together, praying as one cohesive unit? Luke 1:10 is a verse to mull over, chew on, and savor in anticipation of whatever insights God has in store for us this week. So tell me dear one, what will you do with your sweet hour of prayer?