My deadlift shoes and those I wore to the gym that morning are on the floor before me. Looking down at my feet, embarrassment overwhelmed me. Oops, I did it again. My socks don't match. And it's not even close. I grab a deadlift shoe to cover up my error before anyone notices.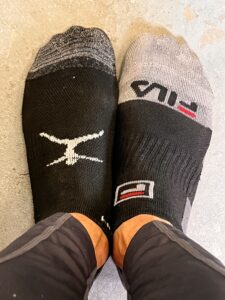 After putting on my shoes, my mistake was covered up, and I relaxed a bit. My secret is safe for now. Mismatched socks are not a sin and have no eternal significance. In the grand scheme of God's kingdom, my socks don't even register. But, an object lesson on integrity forms in my heart.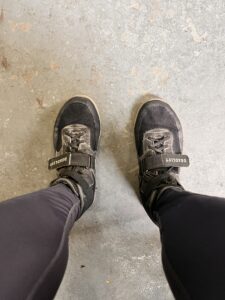 Looks Are Deceiving 
As humans, our outside may look great, but it's a facade of serenity that masks the chaos within. Sometimes we look good on the outside, or "clean up nice" as my grandmother used to say. But on the inside, there's no integrity. Scripture says,
"The one who walks in integrity will experience a fearless confidence in life, but the one who is devious will eventually be exposed."
‭‭Proverbs‬ ‭10‬:‭9‬ ‭TPT‬‬
Fearless confidence is the reward for those who practice a lifestyle of integrity. Fear of exposure plagues those who live in a devious manner. Such a life would have moments of peace overshadowed by panic. Constantly glancing over one's shoulder leads to a malformed posture before the Lord.
Exposure Will Come
Integrity is when our beliefs, values, and thoughts are in alignment with our words and behavior. In isolation, we might convince ourselves that our double lives don't matter. Yet, God knows. He sees. Connections forged with deception eventually unravel.
Oops, I Did It Again 
I've confessed to you my error with my socks. But, this boomer can assure you that this won't be last time I make this silly mistake. I also have to confess that I am writing about integrity using a safe story. But, the story I want to tell is of one person's repeated sin and devious lifestyle. My heart is heavy as I wait for more to be revealed. May we all learn the value of walking in integrity, and strive to stand upright before God and one another.