This chapter of my life is called, 'Stop fighting and Know That He Is God.' It's a story of surrender, faith, and trust. In this chapter, I'm learning to wait on Him, and in the process, grow into the woman He wants me to be. It's a journey of self-discovery, spiritual growth, and divine revelation. As I continue down this path, I am discovering a sense of peace and contentment that is beyond description.
The stillness I'm practicing is not about inactivity or idleness, but about finding calm in the chaos. It's silencing the noise around me, quieting my mind, and opening my heart to His divine wisdom. In this stillness, I found a deeper understanding of God and my relationship with Him.
"Stop fighting, and know that I am God, exalted among the nations, exalted on the earth."
‭‭Psalms‬ ‭46‬:‭10‬ ‭CSB‬‬
Three different phrases play a significant role in this life chapter:
Be still.

Surrender your anxiety.

Stop fighting.
 I found 'Be Still' in the NIV Bible. 'Surrender your anxiety' was in the Passion Translation, and 'Stop fighting' was in the CSB.
Stop Fighting 
Since my shoulder surgery two weeks ago, my movements have been slower, more deliberate, and more careful. There are moments when I need to surrender my anxiety and relax in His presence. And there are times when I have to stop fighting with myself and accept my current limitations. I've learned to rise above the pain and not get lost in it.
This chapter of life has taught me that He. Is. God.  Know that He is the God who is exalted among the nations. He is our refuge, a person, and a place to seek comfort. Know that He is the strength we need to get us through our times of weakness. He is a helper always present in times of trouble. He. Is. God.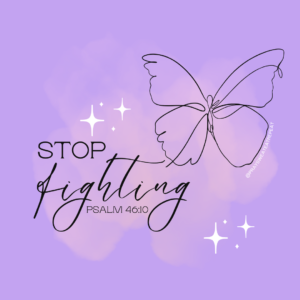 What chapter of life are you in, dear one? Name your chapter, embrace your circumstances, stop fighting and know that He is God.