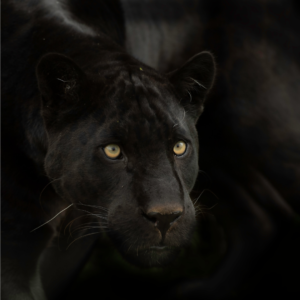 Have you ever come back from a trip eager to share your experience? Twelve years ago, my husband, son, and I took a day trip across the Belize border into Mexico. It was nearly midnight when we reached a section of the highway with undeveloped jungle land on both sides. We drove slowly. Cautious of huge speed bumps known as 'Sleeping Policemen.' Suddenly a black jaguar was in front of our vehicle. We watched as it stared back at us, lingering long enough for us to marvel at its magnificence. We found out later that was a rare occurence, a sight not every Belizean has encountered.
Jesus saw satan fall from heaven. The disciples did not. Luke 10:18 is how Jesus responded after the disciples returned and testified about demons submitting to them in the name of Jesus.
"He replied, "I saw Satan fall like lightning from heaven." ‭‭Luke‬ ‭10‬:‭‭18‬ ‭NIV‬‬
Demons came under submission at the very mention of Jesus name. However, instead of Jesus commenting on the power of His name, He tells them what He saw. A one-time event with eternal significance. Jesus goes on to explain that we were given the authority to overcome all the power of the enemy.
"I have given you authority to trample on snakes and scorpions and to overcome all the power of the enemy; nothing will harm you. However, do not rejoice that the spirits submit to you, but rejoice that your names are written in heaven." Luke‬ ‭10‬:‭19-‭20‬ ‭NIV‬
All the power of the enemy. Jesus saw satan fall. Nothing will hurt us. The victory has already come. When I pray, I want to see all of the results. But, that's not possible. God always sees what we can't. He always knows things we don't. His word, His will, and His lessons come to us in the manner He chooses.
Jesus Saw Satan Fall
Isn't it just like Jesus to tell a one-sentence story and use it as an object lesson for us? The disciples saw demons submit to the name of Jesus. Jesus saw satan fall, but He does not relay the story as a reason to rejoice. Instead of rejoicing over the defeat of the enemy, we're challenged to rejoice that our names are written in heaven. Satan has fallen from the place our names are located.
Rejoice dear ones, our names have been written in the presence of the Most High King!